Exciting isn't it - coming to a new place. It always is; however, with the excitement come the worries, the nervousness, the consternation, the anxiety and the inevitable questions:
Do I have everything I'll need?
Have I made all arrangements?
I hope some of your questions will be answered on this page.

Of course you will be bringing your standard documents like your Passport, and your Landing Document.

Here' a list of other documents that will come in handy. If any of these are not in either English or French, it might help to get them officially translated to English.

Birth Certificate.
Marriage Certificate.
Driver's License.
International Drivers License - in case your country's drivers license is not recognized by the BC Motor Vehicles Department. You might be able to get this information at the ICBC web site.
School and College Certificates, Degrees, Diplomas etc.
Two copies of a detailed list of possessions that you are bringing with you. If any of the items have Model Numbers and Serial Numbers, you must list them. This is required by Canada Customs.
If you cannot bring with you all the things that you own and would like to bring along, Canada allows you to bring in such items duty free at a later date but within one year of you "Landing". However, at the time of "Landing" you will need to provide a complete list of all such items. The list should provide detailed descriptions as well as Model Numbers and Serial Numbers of items if they have such numbers. Bring two copies of this list of "Goods to Follow". Canada Customs will stamp one copy when you "Land" and give it to you. (They will keep the other copy.) When you ship the "Goods to Follow", the stamped copy must accompany the shipment for duty free entry.
For more information on the items that you can or cannot bring, check out: Settling In Canada. This is a Web Page put up by Canada Customs & Revenue Agency.
When I moved here, I brought my car with me across the Canada-US border. I found the following documents useful:
Title of ownership
Letter from my car manufacturer describing its recall history
Letter of Experience from my Auto Insurance companies. In BC if you have a claims free history, you are entitled to a 40% rebate on your Auto Insurance Policy. This is why a "Letter of Experience" (as it is referred to in the US) is useful. Auto Insurance in Vancouver for full coverage can range from $1000 to $1400 per year. Of course this depends on the type of car you have, its age and where you live, apart from other factors. In BC you are required to buy Basic Insurance (Liability) from ICBC (Insurance Corporation of British Columbia) which is a Government organization. This could be approximately $600. ICBC also sells additional insurance (Comprehensive etc.) However, of late you can buy this additional insurance from competitors which I think offer much better rates. I am not sure if ICBC honours a Letter of Experience from countries other than the US.
A Driving Record. In the US in most states it is called a DMV or RMV record.
Before crossing the Canada-US border I had to inform the US customs office at the border 72 hours in advance that I would be moving to Canada with my car. They asked me to fax them a copy of my Title. The US customs run a check to ensure that the car legally belongs to the person exporting it to Canada. You can find more details on the US Customs & Border Protection site. If you will be crossing the Canada/US border you might want to confirm the working hours of the US Ports of Entry.
After importing my car I had to get some modifications done on it so that it met Canadian requirements. For more information on this, take a look at the Registrar of Imported Vehicles web site.
Hotel Accomodation
There are a number of hotels in Vancouver. For a list of these hotels check out The Hotel Guide - Vancouver. If you are looking for inexpensive accomodation you might want to consider the YMCA or the YWCA.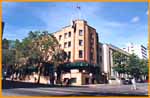 The YMCA's hotel is at an ideal location in downtown Vancouver and is within walking distance to most facilities. I stayed there for two weeks before I moved into my present apartment. The staff is extremely friendly and helpful. Besides, you will meet a number of tourists and possibly other immigrants who are in the process of settling down in Vancouver. Don't expect anything fancy here. It has all the basic requirements and is clean and neat. Also, while you are staying there you can use the facility's Gym and Pool. And, for those of you who want to stay in touch with your friends and families via the internet, the YMCA also has two Internet Terminals which are fairly economical!!. Check out the YMCA web site.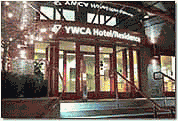 Another inexpensive place to stay is the YWCA's hotel. The YWCA's hotel is a more modern structure and might be better suited for small families than the YMCA. Some of the rooms also have attached bathrooms. It is at the east end of downtown while the YMCA is right in the heart of downtown. The YWCA also has economical Internet Terminals that you can access. You will find more information on the YWCA web site.





If you found information on this site useful and would like to contribute and support it, please click here. Your contribution will go towards the upkeep of this site.